Better then meetings
🧍 Run stand-up meetings
This smart app is designed to run stand-up meetings with your remote or hybrid team or help you be well-prepared for your classic real-time stand-up meetings.
You can walk through actual tasks from your task management software and categorize them according to classic stand-up meeting categories.
Once you are done, you get a prepared list of tasks that serves as preparation for the stand-up meeting or is a result of the stand-up meeting.
In addition, the smart app will add to the category "✅ What was done yesterday" all tasks that were completed between this stand-up and the previous one.
Ways to prioritise tasks
Track progress
✅ Track progress and identify difficulties
This smart app is designed to track task progress and identify roadblocks for your team using tasks from task management software in your work chat.
This smart app could be configured to send invitation to track progress by the end of the work day for the team member and could be initiated by team member themself.
Every tasks from the task list of team member can be marked by following criteria with option to add notes:
✅ Completed
🔄 Worked on it

⬆️ Doing well
⬇️ Struggling
⏺ I'm blocked

➡️ Skipped (or to skip)
You can use this smart app to track your progress and clarify any obstacles you are facing.
🔄 List of completed tasks
This smart app helps to stay well-informed about the scope of completed tasks through reports provided on a daily, weekly, or monthly basis.
These reports are sent directly to your work chat, making it easy for you to stay informed about yours and team's progress.
Simple notifications
🤝 New task notification
With this smart app your team can stay updated with new tasks created in your task management software through real-time notifications.
The smart app will send notification to a channel or to the chat bot when a newly task is created. The source from which the smart app retrieves new tasks can be flexibly configured.
It's a good idea to create a dedicated work chat specifically for receiving notifications about new tasks.
🔔 Task completion notification
This smart app sends notifications to your work chat whenever tasks are completed, keeping your or your team informed about task completion progress.
Whenever a task is marked as complete the smart app will send a notification immediately.
To optimize these notifications, Tasks Ninja suggests creating a dedicated channel specifically for this completed tasks.
Team collaboration
🔄 The approval process of the completed tasks of your teammates
This smart app assists in the approval process of the completed tasks.
You can configure in smart app which tasks you want to approve. When you assigned as collaborator in task and the task is marked complete then you receive approval request for this task. The approval process have 3 options:
✅ Approve
✏️ Revice
↩️ Reject
For each task you can add a comment with feedback.
The result of approval with optional feedback is sending back to the person who completed the task.
And all tasks for approval is gathering in smart app. So beside real-time approval notification you can approve it anytime.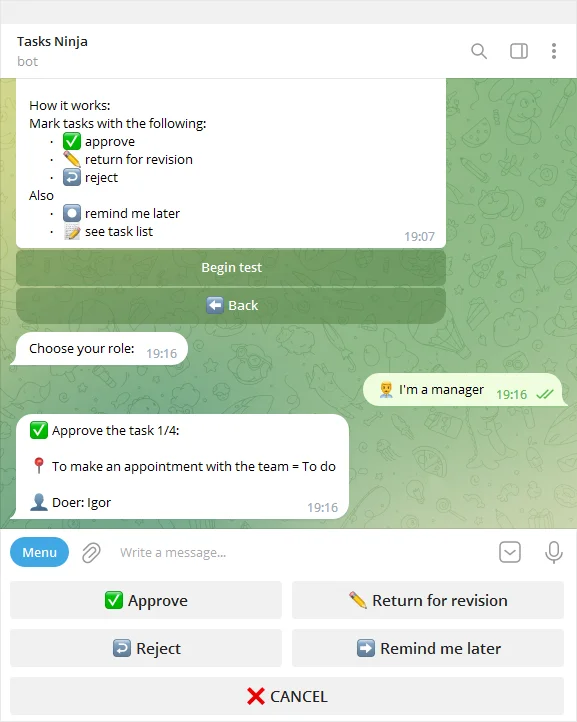 🧑 Manage tasks priority for your teammates
This smart app helps to manage tasks priorities for team members in work chat using actual tasks from your task management software.
The smart app allows you to assist to team member to prioritize the team member's tasks. You can choose how to prioritize tasks based on prioritization smart apps installed on a team member's side.
Once you have set task priorities for team members, it generates a list of tasks by priorities, and sends it to team member's work chat.
Team management
✈️ Approval of vacations and other events
This smart app helps request and approve vacations, sick leaves, days off, and other events for the entire team via a chatbot in Slack.
Every team member can request dates for vacations or days off, and the assigned responsible person can approve them through work chat using this smart app.
You can configure this smart app to choose the type of events, the day limitation for each event type.
This smart app is integrated with Google Calendar, so you can see approval requests and confirmed day-offs, vacations and other info in it.
🎉 Happy birthdays and annual events notifications
This smart app keeps you or your team updated on important upcoming events and team member birthdays.
Using the smart app, you can request the exact date of an important event from a team member through work chat.
Once you add the event to your company's events list, the smart app will send a reminder or a congratulatory message to your group work chat on the event day.
Time management
🕑 Time tracking reports & notifications
This smart app is integrated with time tracking software such as Time Doctor, and it provides highly configurable reports to your work chat.
It is possible to receive wide variety of reports on daily, weekly and monthly basis to any work chats or directly to your bot.
You can customize the reports according to your team's needs by choosing 5 types of reports grouped by projects and 5 types of reports grouped by users. And you can choose one, multiple or all users or projects for your report.
This smart app creates transparency and clear view on progress and activity for team members, managers and even clients.
⏳ Unforgettable time logging
This smart app helps you to not forget to log time to your task management software and make it easier.
This smart app assists you in time logging process based on your style of work and preferences. Time logging process is arranged by walking through your tasks in the work chat.
There are 4 ways how you can configure suggestions and get assistance in the time logging process:
Logging based on workday time distribution, for example, 8 hours per day from Monday to Friday with info how much time left to log
Time logging with suggestions based on your third-party time tracking software
Open logging with limits
Open logging without any limits
And there are many more preferences which you can pick to make time logging process easier and do not forget to do it.
Task management
🆕 Create tasks using any materials in a work chat
This smart app allows you to create a new task in a work chat. Tasks created using this smart app can include text messages, audio files, videos, pictures, and any type of file.
Once you created it in the work chat, it appears in your tasks management software.
This smart app can serve as a collaborative tool and gather materials from different team members in one task. Now, all brainstorming can go straight into the tasks.
You can continue to collaborate with your teammates under the project in the work chat as usual and add their tasks management which is needed for complex projects.